Wearstify
Regular price
Sale price
$99.99
Unit price
per
Sale
Sold out
Description
Fast Inflating Speed and Strong Power: Plug the air compressor into the 12V power outlet, and it will provide fast inflation at a rate of 35 L/min, with a maximum pressure of 150PSI. The powerful tire inflator for your car or bike is easy to operate, just flip the switch and it will do all the work for you. You will be able to enjoy rapid inflation for approximately 2 to 5 minutes. Once it reaches the specified pressure, it will automatically stop inflating, so there is no risk of overinflating the mattress.
TIRE PRESSURE CHECKING AND AUTO SHUT OFF: A quick and easy way to check the tire pressure once the tire valve is connected. By using the auto-shut-off function of the tire inflator with a pressure gauge, you can enjoy a worry-free experience while using your tire inflator with a pressure gauge. A car tire inflator will turn off automatically as soon as the pressure of the air pump reaches the desired level, ensuring your safety throughout the process. It is not necessary to worry about overinflating the tire.
EMERGENCY LED LIGHTING & DIGITAL DISPLAY: Our tire inflator is equipped with bright and long-lasting LED lights to make it safer and more convenient to inflate tires at night, and can also serve as a warning for passing vehicles with red LED lights flashing. Digital display helps you calculate PSI, BAR, KPA, KG/CM2.
The portable air compressor comes with 3 additional nozzles and 1 fuse, inflating basketballs, bikes, motorcycles, and other inflatables. The universal valve connector allows a quick and easy connection to the tire valve stem of your car, bike, basketball, motor, or midsize sedan SUV. Multifunctional features such as a 12V car cigarette socket plug and a 110V wall plug for the home outlet make this inflator more useful.
PORTABLE AND DURABLE: The tire pump is thoughtfully designed with a compact size. The cables and hose can be stored inside the unit to avoid mess. The design with its own handle makes it more convenient to carry anywhere you need. We also provide continuous 24-hour service for satisfied customers.
Product Description
PORTABLE AIR COMPRESSOR
This is a great tool to have on hand at all times! Everything from tires to balls can be used with this device
With this air compressor for your car, you will be able to make sure your car tires have some air supply when you are on the road and you will be able to enjoy a more comfortable ride and improve your fuel efficiency at the same time. For the purpose of providing security protection for your car, it is used.
Furthermore, this compressor can be used to inflate a wide variety of items, which can range from a variety of vehicles, such as cars, bikes, motorcycles, sedans, and midsize SUVs, as well as sports balls, balloons, and other inflatables for home use.
Powerful Motor Fast Inflation
The pump is equipped with a high-quality motor that allows you to inflate a tire to the desired PSI within a minute, with a maximum pressure of 150 PSI.
Replaceable fuse
The tire inflator comes with a replaceable fuse so there will be no worries when using it.
Portable & compact
There is something very useful about this kind of pump, it has a handle that you can carry around with you and it has been designed for compact portability so that you can easily store it in your car.
LED Emergency Light
Featuring a built-in LED light source, this super bright red flashlight is designed to illuminate your car at night and attract the attention of other drivers in the event of an emergency.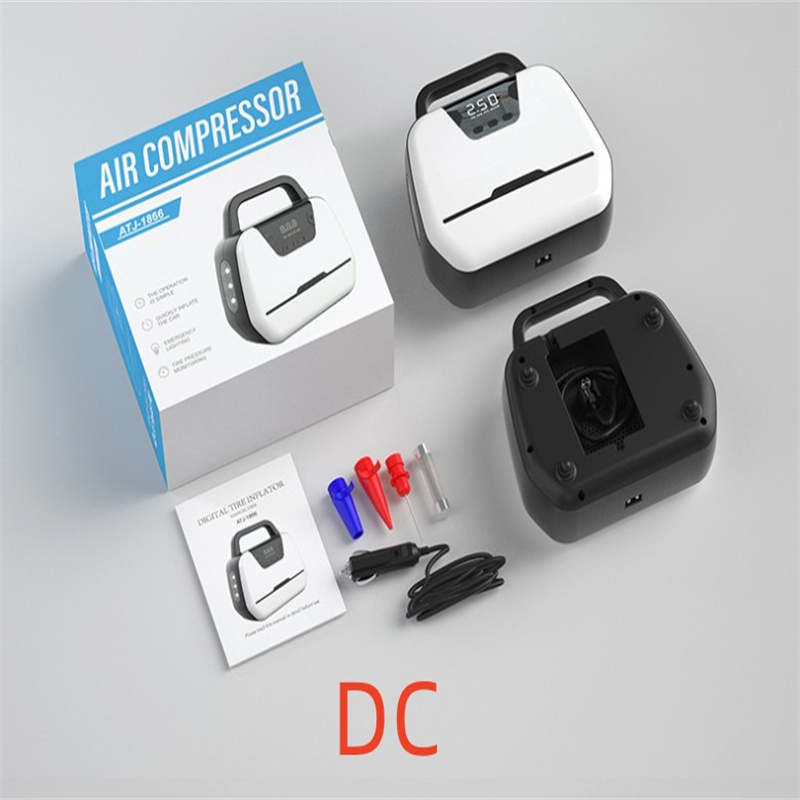 Share
View full details